Pointy Hat Cast 037 - Birds of Prey
Candy Dust
a year ago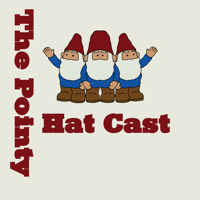 Episode Notes
The Pointy Hat Cast is a movie podcast. I guess you could call it a movie review podcast. We just like movies of all types, genres, and from all time periods and talking about them!
Hosts: Barry, Sam
Topic: Birds of Prey (2020) It was directed by Cathy Yan. The screenplay was written by Christina Hodson. It stars Margot Robbie, Rosie Perez, Mary Elizabeth Winstead, Jurnee Smollett, Ewan McGregor, and many more.
Birds of Prey is a pretty solid film compared to previous DC films. It has straight forward and coherent editing, the pacing is great, and the movie moves away from the drab dreariness of Gotham and introduces more color into the world. The movie does have some flaws, most of it being the inconsistencies in tone. The movie was trying to toe the line between ultra violence and cartoon violence and it's hard to do both. It also tried to go to 11 at all times in respect to over the top humor so the few serious moments in the movie felt unearned. Overall though, the movie was more fun than we expected, and enjoyable.
Mail Bag: What is your favorite DC movie so far?
Where can I buy candy dust?! If you grew potatoes in poo, would they be pootatoes?! Find out next time, on the Pointy Hat Cast!
P.S. Isaiah has returned! He'll be joining us again for future episodes so all should return to normal soon enough. Thank you for your patience!
Music from https://filmmusic.io "Whiskey on the Mississippi" by Kevin MacLeod (https://incompetech.com) License: CC BY (http://creativecommons.org/licenses/by/4.0/)