Pointy Hat Cast 040 - Wonder Woman 1984
Better than Scorpion King, Worse than Abe Lincoln Vampire Hunter
2 years ago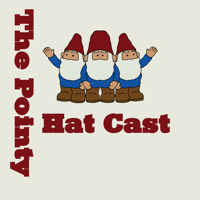 Episode Notes
The Pointy Hat Cast is a movie podcast. I guess you could call it a movie review podcast. We just like movies of all types, genres, and from all time periods and talking about them!
Hosts: Barry, Isaiah, Nate, Sam
Wonder Woman 1984 (2020): It was directed by Patty Jenkins. The screenplay was written by Patty Jenkins, Geoff Johns, and Dave Callaham. It stars Gal Gadot, Chris Pine, Kristen Wiig, Pedro Pascal, and many more.
Wonder Woman 1984 is a horrible mess of a film where it tried to tackle too many different things and ended up missing the mark for almost everything. It couldn't make up its mind on whether or not it's a kid's film or not, and even small things like sticking to a set color palette. It also misses an opportunity to delve into the theme of the strength of the individual based on truth by comparing Kristen Wig's Cheetah to Gal Godot's Wonder Woman. At least it was better than Scorpion King...or was it?
Mail Bag: Did Wonder Woman commit a heinous crime?
What if Maxwell turned into Rock The Dwayne Johnson?! Is Adam Sandler funny?! Find out next time, on the Pointy Hat Cast!
Music from https://filmmusic.io "Whiskey on the Mississippi" by Kevin MacLeod (https://incompetech.com) License: CC BY (http://creativecommons.org/licenses/by/4.0/)