Pointy Hat Cast 039 - Bill & Ted Face the Music
Station
2 years ago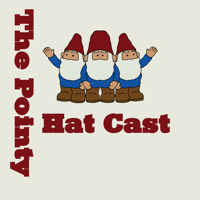 Episode Notes
The Pointy Hat Cast is a movie podcast. I guess you could call it a movie review podcast. We just like movies of all types, genres, and from all time periods and talking about them!
Hosts: Barry, Sam
Topic: Bill & Ted: Face the Music (2020) It was directed by Dean Parisot. The screenplay was written by Chris Matheson and Ed Solomon. It stars Keanu Reeves, Alex Winter, Kristen Schaal, Samara Weaving, Brigette Lundy-Paine, William Sadler, Anthony Carrigan, and many more.
Bill & Ted: Face the Music feels like it took the best parts of Excellent Adventure and Bogus Journey and combined them together into a modernized package that still maintains the incredibly wholesome, pure, and funny spirit of the original movies. There is really no sense of cynicism throughout the whole film and the positive, can do attitude is something that resonates with what we are lacking for the current times.
Mail Bag: Which movie did time travel the best?
I'm my own son?! Is Adam Sandler funny?! Find out next time, on the Pointy Hat Cast!
Music from https://filmmusic.io "Whiskey on the Mississippi" by Kevin MacLeod (https://incompetech.com) License: CC BY (http://creativecommons.org/licenses/by/4.0/)