Pointy Hat Cast 038 - The Martian
Pootatoes
2 years ago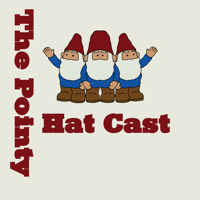 Episode Notes
The Pointy Hat Cast is a movie podcast. I guess you could call it a movie review podcast. We just like movies of all types, genres, and from all time periods and talking about them!
Hosts: Barry, Sam
Topic: The Martian (2015) It was directed by Ridley Scott. The screenplay was written by Drew Goddard. It stars Matt Damon, Jessica Chastain, Kristen Wiig, Jeff Daniels, Michael Peña, Sean Bean, and many more.
The Martian is an incredibly well crafted adaptation of the book of the same title, written by Andy Weir. It does a fantastic job of condensing the science parts down into digestible chunks and inserts enough action and drama to hook the viewer in. Personally, I'd like the movie to be extra long and focus more on the science but that would probably make for a more mundane viewing experience for everyone else. The Martian is the perfect compromise of staying true to the source material while making it entertaining. It also has poo potatoes. Pootatoes.
Mail Bag: What is your favorite space movie?
Pootato, Toomato?! Is Adam Sandler funny?! Find out next time, on the Pointy Hat Cast!
P.S. Isaiah has returned! He'll be joining us again for future episodes so all should return to normal soon enough. Thank you for your patience!
Music from https://filmmusic.io "Whiskey on the Mississippi" by Kevin MacLeod (https://incompetech.com) License: CC BY (http://creativecommons.org/licenses/by/4.0/)