Pointy Hat Cast 041 - The Tomorrow War
How not to do time travel
2 years ago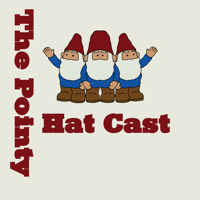 Episode Notes
The Pointy Hat Cast is a movie podcast. I guess you could call it a movie review podcast. We just like movies of all types, genres, and from all time periods and talking about them!
Hosts: Barry, Sam
The Tomorrow War (2021): It was directed by Chris McKay. The screenplay was written by Zach Dean. It stars Chris Pratt, Yvonne Strahovski, J.K. Simmons, Betty Gilpin, Sam Richardson,  and many more. Currently as of this podcast, it has a rotten tomatoes score of 52% for critics, and 78% for audience.
The Tomorrow War is probably one of the worst time travel movies I have ever seen. It is probably one of the worst action movies I have ever seen as well. It fails on both fronts mainly due to the fact that the movie tries very hard to explain how the time travel mechanic works and gives the audience too much time to realize that none of it really makes sense.
Mail Bag: What is your favorite time travel movie?
Why do they have holo sights if no one uses them?! Will we have to readjust our rating scale because of the new Suicide Squad movie?! Find out next time, on the Pointy Hat Cast!
Music from https://filmmusic.io "Whiskey on the Mississippi" by Kevin MacLeod (https://incompetech.com) License: CC BY (http://creativecommons.org/licenses/by/4.0/)
Support The Pointy Hat Cast by contributing to their Tip Jar: https://tips.pinecast.com/jar/the-pointy-hat-cast
Check out our podcast host, Pinecast. Start your own podcast for free with no credit card required. If you decide to upgrade, use coupon code r-df676f for 40% off for 4 months, and support The Pointy Hat Cast.